MOUNTAINS TO COAST FLY FISHING AND SHOTGUN SPORTS GUIDE SERVICE'S most exciting adventure package is here!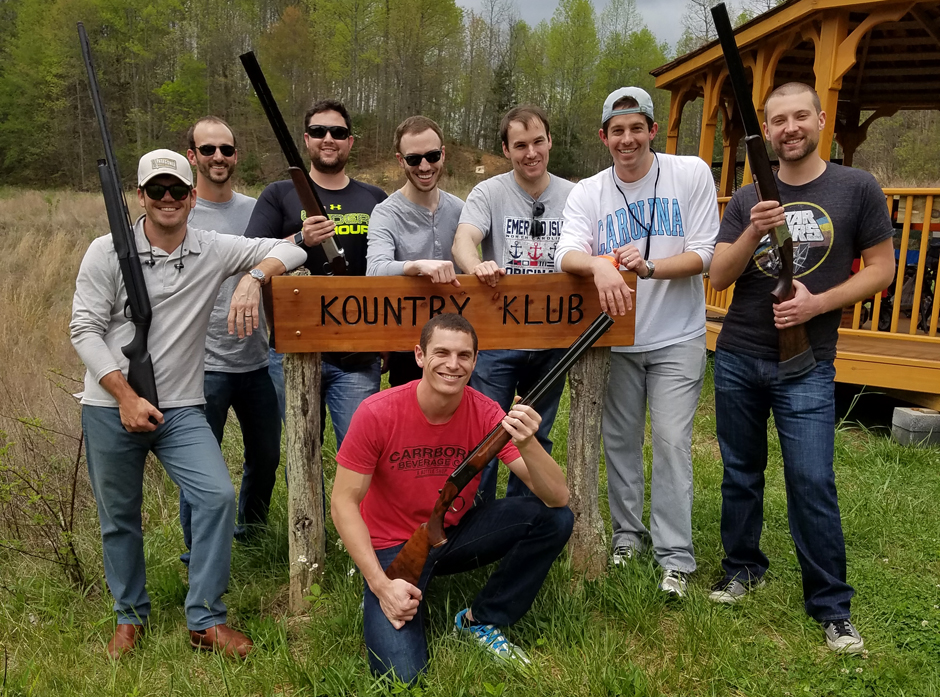 Experience the thrill of clay pigeon / target shooting with our clay shooting instructor, and owner, Carl Freeman. This all inclusive package provides you with everything you need to have a great adventure. The price is valid from (1) one to (6) six shooters (up to 300 people) and best of all, we deliver you to and from the shooting site which is about 15 minutes away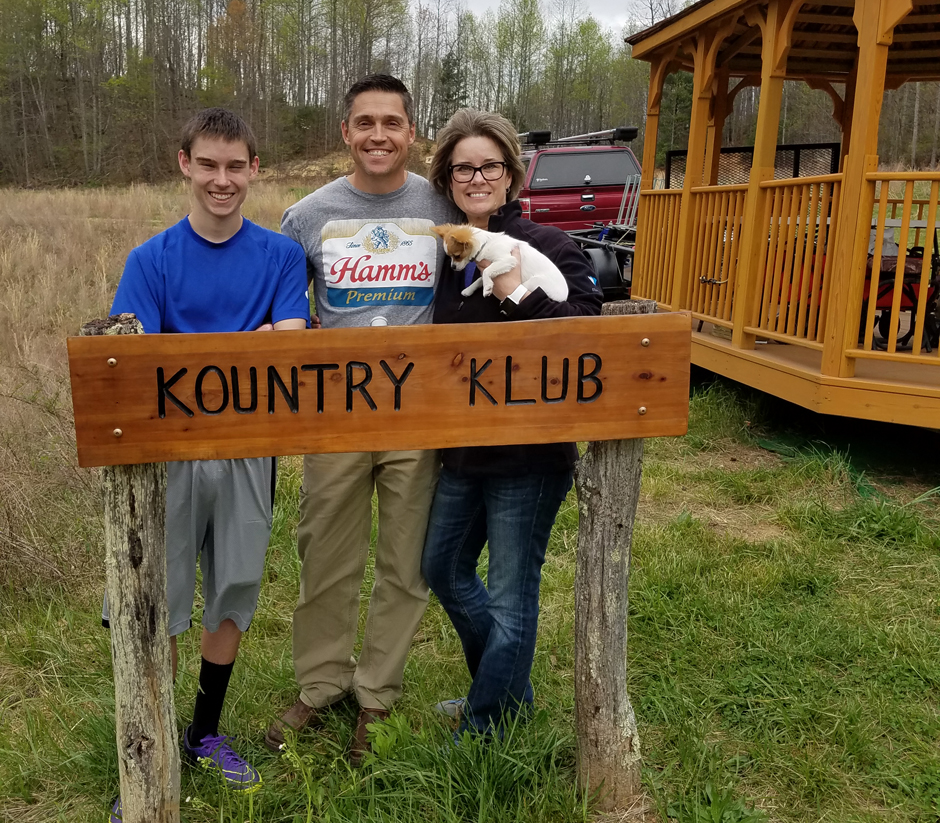 Many people call this fun shotgun sports shooting games, skeet shooting, trap shooting, sporting clays, 5-stand, even, clay pigeon shooting. Name it what you want, it's all fun with family, friends, & business associates, especially with your certified shooting instructor Carl Freeman, which has participated in The World Trap Shooting Championships. Your Clay Shooting instructor Carl Freeman will assist you using top quality Trap machines, including wobble trap machines.




Our instructor will show you how it's done and set you up for a few hours of breaking clays. The shooting experience takes about 2 1/2 to 3 hours and you have the option to purchase additional targets on site or in advance when you make your package reservation. All levels of experience are welcome.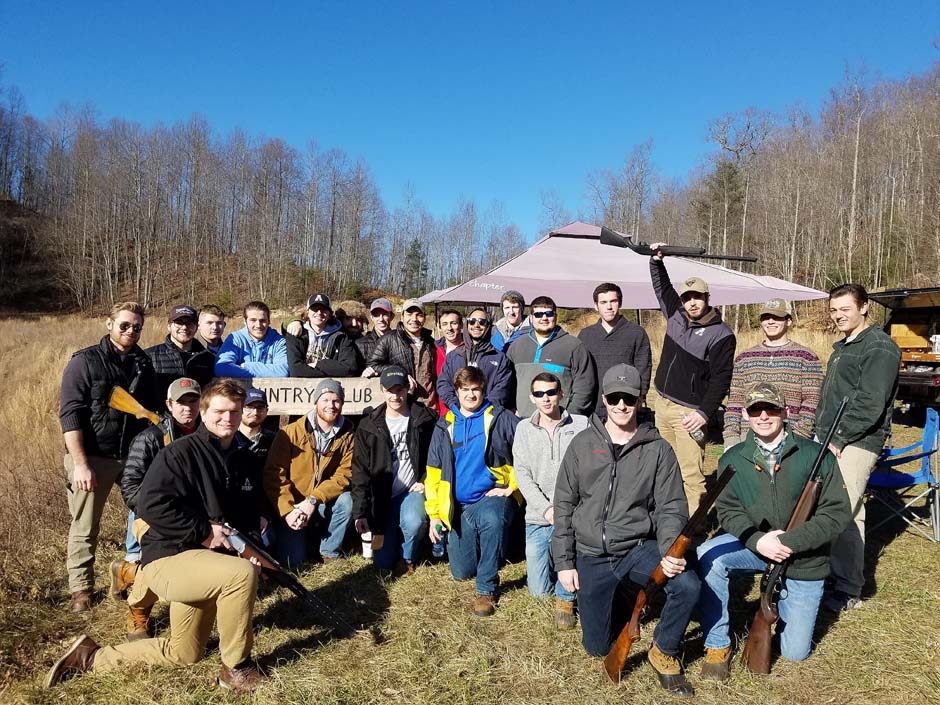 Sporting Clay Package Includes;
150+ Clay Targets and 150 Shot Shells
One package price valid from one to six people (up to 300 people)
Round Trip transportation to and from shooting site (10 minutes)
Instruction on basic shooting techniques, gun safety, trap safety and safe shooting
Safety enclosures
Personal Protective Equipment
Top Quality Shotguns
Option to purchase additional 150+ Targets & Shot Shells at reduced rate
Mobile Sporting Clay Target Shooting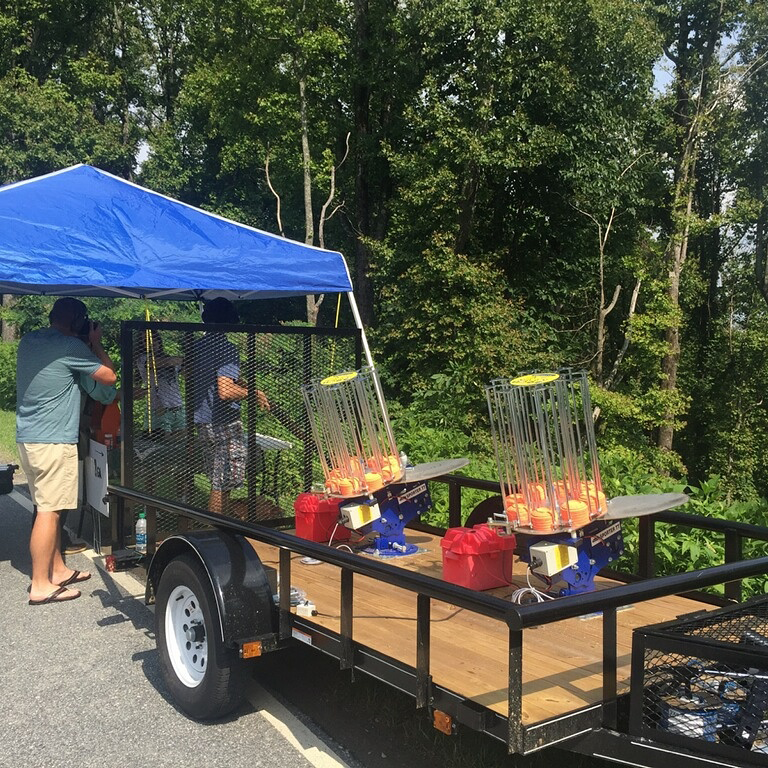 Extra clays and shot shells are available on the day of your event. Each extra box of 150 targets, (PLUS 150 shot shells); will be charged at $150 in addition to the $295.00 package price.
Mobile Sporting (150 Clays) Target Shooting (PER SHOOTING GROUP)- $295
---
Extra (150 Clays) Shooting Package (PER SHOOTING GROUP)-$150
---
A SHORT TESTIMONY FROM A GROUP OF CLAY TARGET SHOOTING GUESTS - PLEASE TAKE TIME TO READ.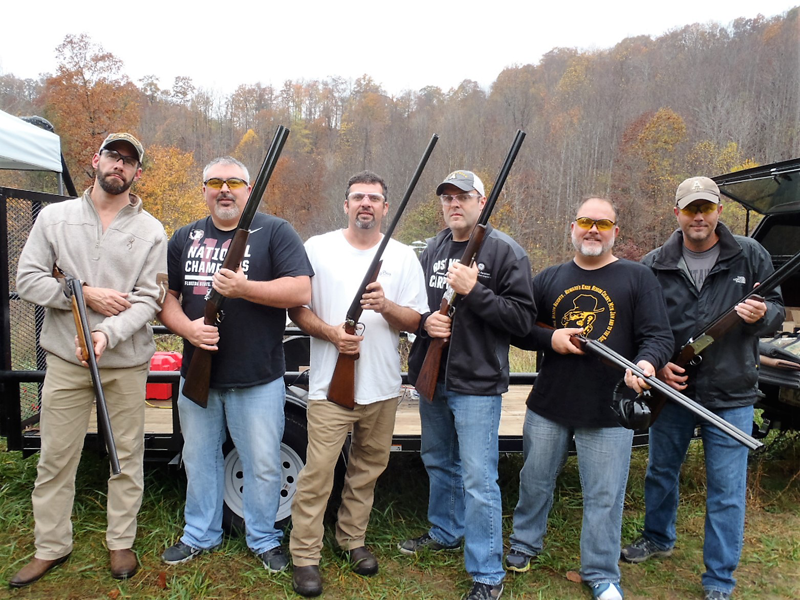 Hi Carl,
Thank you so much for the photos you did for us, but most of all for your time and great care you showed our group. Yes, you provided for us a way to shoot clays in the rain and not get wet. We very much appreciate that. Your hospitality and careful instruction was above and beyond the norm. I've been shooting at clubs all over as well as on numerous public ranges and have never experienced anything like what we did with you as our trusted advisor, instructor, and guide. From the total novice to our more experienced shooters, you made everyone feel so at ease and comfortable in your presence. You have a real gift Carl, and we are grateful to have had the opportunity.
Thanks again Carl and on our next Fall trip we want to get on a quail hunt as well, and possibly see that Elhew English Pointer in action. He is beautiful... I may even sneak in a hunt later this winter in Feb. I'll be in touch and please know I speak for all of the boys when I say you made our annual Fall retreat so very special.
All the Best,
Patrick Tillman
Director of Accounts
---
Tipping & Gratuities
OUR GUESTS ALWAYS ASK??...How Much?? Gratuities/Tips-(Normal & Customary 20%-25%) are Not included in Guide Services Pricing, but are Anticipated & Appreciated by your Hard-Working Guide.
Please be assured that my guides and I are going to give you 100+% effort, utilizing our many years experience in the High Country to provide you with a most memorable, fun and exciting opportunity to catch & release mountain trout, hit clay targets or harvest wing-shooting birds. Please do not gauge your guide's tip on what "you" may miss or not catch.
We all thank you!
Carl and the Mountains to Coast Flyfishing and Shotgun Sports Guide Team.
Gratuities
---
PAYMENT & CANCELLATION POLICY.
Pre-Pay in full including options & extras at Time of Booking and is Non-Refundable to also include any and all options & extras purchased. If cancelled by guests, a 100 % credit will be given in the form of a Gift Certificate to be used for another booked, future agreed time, guided trip within 12 months of cancellation.

We DO NOT accept cancellations based on a future weather forecast.
We fish, shoot, or hunt Rain, Snow, or Shine. Exception, extended time of lightning & high water.

Guests can purchase Trip Cancellation Insurance at 1-800-487-4722
THIS IS YOUR EXCLUSIVE BOOKED TIME

Please understand, if you cancel and want a refund, I not only would loose income as a small business owner from your exclusively confirmed booking but loose income from guests I could have booked in your exclusive time slot. This is why policy of no refunds but will give you credit for next 12 months. Thanks, Carl
Tipping & Gratuities
MY GUESTS ALWAYS ASK??...Gratuities/Tips-(Normal & Customary 20%-25%) are Not included in either, My, Guided Trip Charges, Fly-Fishing or Shooting Lessons, Custom Covey Quail Hunts, Clay Target Adventures, but are Appreciated by your Hard-Working Guide. If you feel that you've received good service, feel free to show your Gratitude!
I Thank you, Carl.
About Your Guide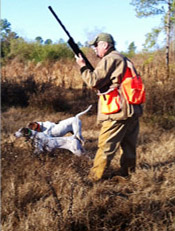 Carl Freeman is an Orvis Trained, and Certified Fly-Fishing, Clay Target Shooting, & Wing Shooting Professional Guide. Carl is also a Lifetime Member of Trout Unlimited. He previously has owned two (2) Orvis Fly-Fishing Shops & Guide Services.

Carl is considered one of the top Fly Fishing Anglers, Fly Fishing Guide, Clay Target Shooting Guide, & Wing Shooting Guides in all of The Blue Ridge Mountains and Appalachian Mountain Ranges.

He also offers from The High Country to The Low Country his Upland Bird Hunting & Wing Shooting guests an Action-Packed hunt of a Lifetime. As he says "From the Mountains to the Coast in The Southeast, we have you covered"

His world was opened up to the Great Outdoors over 50+ years ago Fishing and Hunting with his Dad. Carl was first introduced over 25 years ago to his 1st and 2nd passion in 1987, which is Fly-Fishing and His 1st passion is his wife Linda, of course.

He received his formal training from Orvis headquarters in Manchester, VT to obtain his certification. After receiving his certification Carl worked professionally as an owner and a fly fishing guide in NC, TN, VA, & Internationally in Austria.

Carl now owns MOUNTAINS TO COAST FLY-FISHING & SHOTGUN SPORTS GUIDE SERVICE, and also MOUNTAINS TO COAST REAL ESTATE REFERRAL PROGRAM, which helps guest and clients with residential, investment, & commercial real estate needs through LoopNet, #1 in commercial real estate online. Carl was previous owner of High Country Real Estate, Inc. in Blowing Rock, NC.

Carl has hosted guests of all ages and backgrounds in Fly-Fishing and Upland bird hunting. He has taught them The Art of Fly-Fishing & Shotgun Sports and has introduced them to his lives' passion. Your Guide, Carl Freeman is a Veteran of the USA Armed Forces and strongly supports great organizations like, Project Healing Waters Fly-Fishing, Wounded Warriors Programs as well as supporting breast cancer survivors through the organization Casting for Recovery. His firm belief is if he can learn and enjoy these Great Outdoor Adventures, anyone can!!

"I want you to absorb each page of information in hopes; I can help you eliminate the intimidation factors you may presently have."
Whatever your desired sporting activities and destination trips are, Mountains to Coast Fly Fishing and Shotgun Sports Guide Service should be your first and only choice.
When you are a Private Guest of Mountains to Coast Guide Service, you don't have to be a member of a Private Rod and Gun Club, or a member of a Private Fly Fishing Club, or a member of a Private Bird Hunting Club or even a member of a Private Clay Target Shooting Club.

With Mountains to Coast Fishing, Hunting, and Shotgun Clay Target Shooting Sports, it's like you have all the benefits of being a member of a Private Sporting Club without having to pay out thousands of dollars and sign long term agreements and contracts. Hey, you just want to Fish, Bird Hunt, and Shoot Targets. You May view the Sporting Activities and Destination Trips on our Photo Page.

Our booking calendar is filling fast this year for Mountains to Coast Guide Service with, Fly Fishing for Trophy Trout, Wing Shooting, Wetland & Upland Bird Hunting, Clay Target Shooting, Instructional Classes, and Lessons, especially in our North Carolina locations.

We have partnered with numerous Private connections which include fabulous, Waters, Streams, Hunting Preserves, and Shooting Facilities, that will equip you with everything you need for the ultimate Year Round Fly-Fishing or Year Round Shotgun Sports experience.

Mountains To Coast Fly-Fishing & Shotgun Sports Guide Service provides or makes available all equipment and complete instructions that will have you fishing, wing shooting, upland / wetland bird hunting, or clay target shooting, with confidence even if you've never stepped foot in a stream, or shot a shotgun before.

Please go to our Concierge Program Page and consider Booking a Combination of Guide Services.
Mountains to Coast Action Packed Blast and Cast or Cast and Blast Packages
Ask Us About and Book Your Action Packed Blast and Cast or Cast and Blast Packages!
OFFERED IN OUR NORTH CAROLINA LOCATION WE ARE CURRENTLY TAKING LOTS OF RESERVATIONS FOR GUIDED FLY FISHING & SHOTGUN SHOOTING SPORTS TRIPS THIS YEAR & NEXT...CALL, TEXT, EMAIL, REAL SOON TO RESERVE YOUR TRIP.
We can assist you in Booking Preferred Lodging as well. Just let us know at time of booking your Action-Packed Trip Of A Lifetime!

ALSO ASK US ABOUT AND BOOK YOUR EXTREME KAYAKING FLY FISHING AND CLAY TARGET SHOOTING GUIDE TRIP
AND ASK US ABOUT AND BOOK YOUR EXTREME TENKARA TROPHY TROUT FLY FISHING AND A ZIP LINE GUIDE TRIP... "ZIP TRIP"
Specially Priced All Inclusive Trophy Water Packages!
North Carolina Blue Ridge Mountains Professionally Guided Overnight 2 Day Huge Trophy Trout Fly Fishing Trip
You will be special guests of legendary North Carolina Orvis Trained Appalachian Mountain Fly-Fishing Guide, Carl "Trout Whisperer" Freeman. Carl's the owner of Mountains to Coast Fly-Fishing & Shotgun Sports Guide Service.

You will be guests for 1 night lodging, 2 day fly private fishing trip package for 2 people (or up to 6 guests total 3 groups of 2) in Northwestern North Carolina to fish and stay in one of our mountain lodging cabins nearby to fish for Huge Trophy Trout of a Lifetime!

An overnight trip with Professional Guide Carl and or one of his Pro Guide Team guides is what you might call, "The Ultimate Fly-Fishing Adventure for Huge Trophy Trout of Your Lifetime!"

Your accommodations will be a well-appointed Mountain Cabin. Some lodging is just a few short steps from your own personal Private Section of a Trophy Stream. Our overnight trips begin with a full day of fly fishing, with a streamside picnic lunch followed by a gourmet dinner, and a night of relaxing sounds of a pristine mountain stream. You'll wake up to a hearty breakfast followed by another full day of fishing with a streamside picnic lunch. There's no better way to get away to slough off the hectic real world.
Tenkara Fly Fishing
Try Action Packed Trip of a Lifetime, Ancient Japanese Tenkara Fly Fishing
Tenkara is the traditional Japanese method of fly-fishing where only a rod, line and fly are used. Tenkara is about fly-fishing simplicity and mountain-stream effectiveness. Eleven to fourteen foot long rods allow anglers to fish mountain streams in a way that is nearly impossible with western fly gear. Telescopic rods collapse down to a mere 20 inches, and few things are needed making tenkara ideal for backpacking. Tenkara is perfect for those in search of a pure, effective and simpler method of fly-fishing.
Testimonials
Letter from David L. Hughes
Dear Carl,
I finally got around to getting my film developed and this one enlarged. It was the best of them and the trout looks most like a 5 pounder in it... maybe we don't have to lie about it! That day with you and James is still the highlight of my fishing year. I haven't much chance to get out since. Best, Dave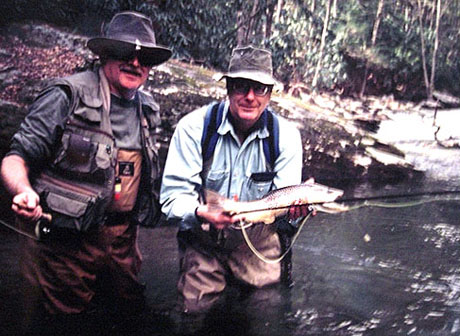 Dave Hughes is an author of more than 20 books about fly fishing for trout. He has written articles for such diverse magazines as "Salmon, Trout, Steelheader," "Fly-fishing & Tying Journal," "Fly Rod & Reel," and "Fly Fisherman." He wrote the "Fly Fishing Success" column for "Fly Rod & Reel" for five years; those articles, and many others, were gathered into the book Taking Trout. Dave has been a contributing editor to "Field & Stream," and has written for the classy "Gray's Sporting Journal," and for eight years was editor of "Fly-fishing & Tying Journal."
Letter from Bob Timberlake
In my 75 years of hunting and fishing all over the world, I've never had a more helpful and enthusiastic fishing guide anywhere. Carl, The legendary "Trout Whisperer" is also that way with all my friends and everyone I know who has fished with him at Chetola Resort in Blowing Rock, NC, The Refuge at Twin Rivers or anywhere. And he's a great friend." "I just can't wait to hunt quail, grouse, turkey or anything else he wants to go out and find - or we can just enjoy talking about it." "






Bob Timberlake is an American realist artist primarily known for his watercolor paintings as well as for designing and licensing lines of home furnishings, clothing and various other products. He began his career as an artist in 1970 and began his home furnishings line in 1990. He founded Linwood Furniture, LLC in 2006. In the fall of 2004, the Manor House Estate House at the Chetola Resort at Blowing Rock was renamed the Bob Timberlake Inn at Chetola Resort. His primary studio was created from a historic barn built in 1809 and moved to its current location in 1986.